The Parent Teacher Association (PTA) is an integral part of the St Thomas's School community. The PTA is responsible for fundraising and social activities within the school community. We co-operate with and support the Board of Trustees and teachers to ensure the best possible outcomes.
We would love it if you could get involved with the PTA either on the committee or as a helper. It's a great opportunity to get to know some of the other parents, help your children and have some fun.
If you want to find out more about what we do, feel free to contact us or come along to a meeting. We have regular meetings during term time, check back here for dates and times.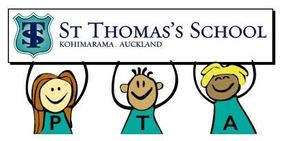 2023 Committee
Co-Chairpersons: Nicolette Rattenbury and Josie Tate
Treasurer:
Secretary: Tracey James
Communications Manager: Angela Lieskounig
Teacher Representative: Sally Clothier
PTA Members: Keri Brown, Kathryn White, Angela Lieskounig, Kav Morton
If you would like further information please do not hesitate to contact the PTA
Email: ​​stthomasschool@gmail.com